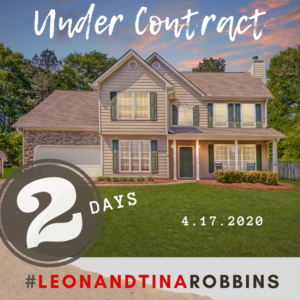 YES, We Are OPEN!
–UNDER CONTRACT IN 2 DAYS – 22 showings | 5 offers
5311 Meadows Lake Crossing, Powder Springs, Georgia 30127 | Meadows Lake Neighborhood
🎉 Here's how we did it…
March 3, 2020
I met with Mr. & Mrs. Gilliam to discuss the marketing and sale of their house. During this meeting, I provided a home staging consultation with ideas on how to sell their home for top dollar with little money invested. They advised me they had interviewed several agents, and my list price analysis was much higher – $15,000 higher!
March 4, 2020
The next day, The Gilliam's hired me to sell their home!
I immediately lined up trusted Contractors to provide estimates on a couple of home repairs.
March 10, 2020
Provided the Gilliam's a lender to get prequalified on the purchase of their new home
March 23, 2020
Contractors completed work – Seller de-cluttering house
April 7, 2020
Mrs. Gilliam and I continue tweaking her home staging
April 14, 2020
Professional Photography completed – Photos turned out beautifully! Sign and lockbox installed
April 15, 2020
Just Listed 5311 Meadows Lake Crossing
New Listing Entered into FMLS & GA MLS on Thursday at 5:25 p.m. & Hard Hit Our Effective Marketing Strategies.
April 15 – April 17, 2020
2 Days on the market, 22 Showings | 5 Offers
April 17, 2020
Boom! 💥**Contract Price Over List Price**
Under Contract Friday, April 17, at 9:59 p.m.
April 20, 2020
Home Inspection performed.
Also placed a contract on The Gilliam's new home! 😀
April 21, 2020
Home Inspection resolved.
5311 Meadows Lake Crossing – Sale Pending! 🎉
– – – – – – –
If you are looking to BUY or SELL, please call us. We would LOVE to help you or your referral.
Leon & Tina Robbins
770-815-4414 call or text |Tina@RobbinsRealty.com