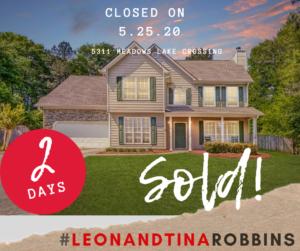 Closed on 5.25.2020
Congratulations to Nick & Heather Gilliam on the Sale of your home at
5311 Meadows Lake Crossing, Powder Springs, GA 30127 💥🏠🎉
#MeadowsLake #Cobb Sold in TWO Days..
and the purchase of your beautiful NEW home!! Best wishes and blessings to you!
– – – – – –
We appreciate your referrals to family and friends, we will take great care of them!

SELLERS: Inventory is low – It's a great time to sell.
BUYERS: We let you know what's coming before it hits the market.