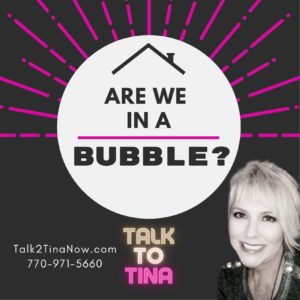 Dear friends, The #1 real estate question I'm asked is….
"Are We in a Housing Bubble??"
Here's my answer… I hope this helps
The stock market, mortgage rates, inflation, etc. are among factors that certainly influence the real estate market, however there are some key stabilizing differences in the housing market today verses 2007-2010. People today have equity in their homes – whereas before there were a lot of 100% financing and mortgage fraud. Also, supply and demand is driving our market. The rising interest rates may slow out market but I do not see a market crash. The Federal Reserve will continue to increase interest rates to combat the 8.5 inflation. I'm still receiving multiple offers and increased sales prices, so if you're thinking of selling please call me and I'll provide you with a free market analysis.
I want to share this Forbes article with you.
Curious about FMLS data SOLD Prices in your area?
I have provided the latest quick stat reports by county here:
Thinking of Selling?
Most of our listings go under contract within 2-7 days with multiple offers. We work swiftly and diligently to negotiate for you, making sure you get the highest and best offer.
Thinking of Buying?
I'll fill you in on our proven strategies of WINNING the contract on behalf of our buyers. Our approach has changed along with this very different housing market. We're in it to win it for you!
I look forward to hearing from you!
Call or text me today 770-815-4414
Office 770-971-5660
Email: TalkToTina@RobbinsRealty.com
LEON AND TINA ROBBINS
"Best of ZILLOW" Highest Badge of Distinction
Top Ranked Agent by Association of Realtors
25+ Years Experience – Helping Families Make Dreams Come True